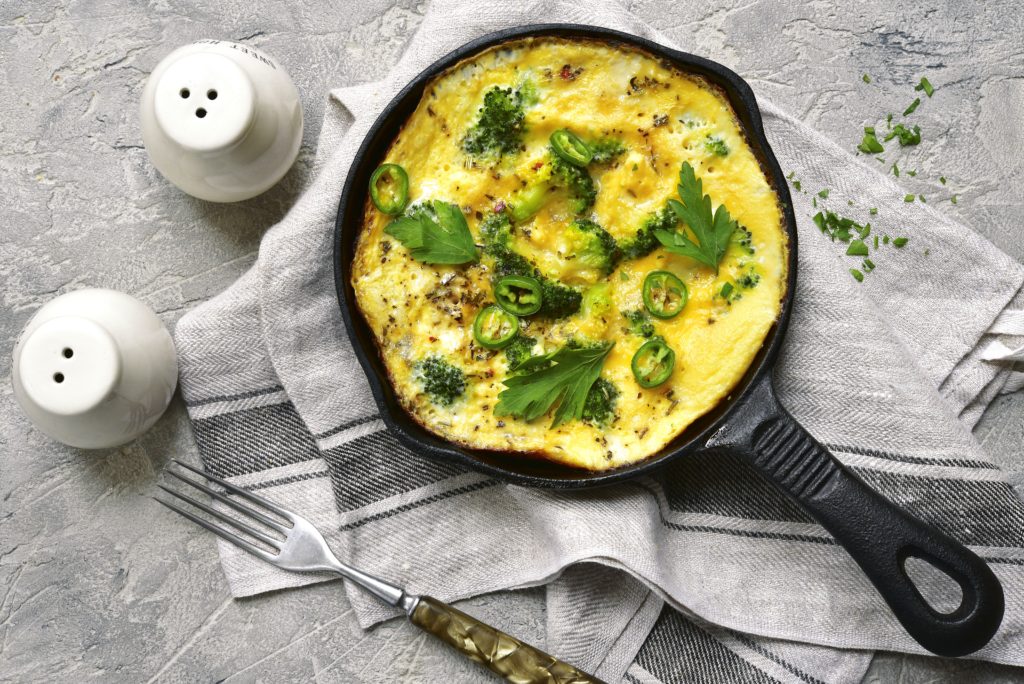 It's the Weekend… Time to Enjoy a Leisurely Breakfast!
I'm absolutely loving these sunny, breezy and bright Californian weekend mornings.  For me, one of the best parts of my week happens to be weekend mornings.  If I happen to have the morning off, I luxuriate by spending an extra hour or two in bed, enjoying the crispness of the morning.  Once, I finally decide to peel myself up out of the bed to shower and begin the day, I head straight to my local farmers market to pick up fresh vegetables to throw into a frittata.  The best thing about frittatas is that there limitless types of vegetables that can be thrown into one.   
Frittatas are great when you're looking for something a bit more substantial than scrambled eggs and less involved than making a cumbersome multi-ingredient meal.  Frittatas are differ from omelettes in that they are started on the stovetop and then finished in the oven with the fillings mixed in with the eggs.  With omelettes, the ingredients are folded into the center and are prepared solely on the stovetop.
I decided I wanted to feature a frittata on the site because preparation is fairly simple and cooking time is minimal.   Frittatas can be made ahead of time and can served hot or at room temperature.  The basic recipe calls for well beaten eggs to be whisked together with milk, seasonings, herbs, cheese and vegetables and cooked in a cast iron skillet on the stovetop until the edges are set.  Once the edges are set, the frittata is placed in the oven to be cooked slowly over low heat until eggs taken on a springy texture.  
For my frittata, I used sun dried tomatoes, goat cheese and zucchini whisked into egg whites.  Although I used egg whites, you must certainly can use whole eggs if you prefer.  Additionally, feel free to use different vegetables such as spinach and mushrooms or a different cheese such a gruyère.  Get creative and use whatever you have leftover in your fridge!  Not only would you be saving money, but you would also be reducing potential food waste. 

Summer Vegetable Frittata
Egg whites, Zucchini, Sun dried tomatoes, Goat Cheese, Basil
I
ngredients:
9 eggs (whites only)
1/4 cup milk (or any dairy such as sour cream, yogurt, milk kefir, but not something non fat)
1/4 cup basil, chiffonade*
6 tbsp goat cheese
1/2 cup sun dried tomatoes, chopped into bite sized pieces
1 small zucchini, thinly sliced
Salt and pepper to taste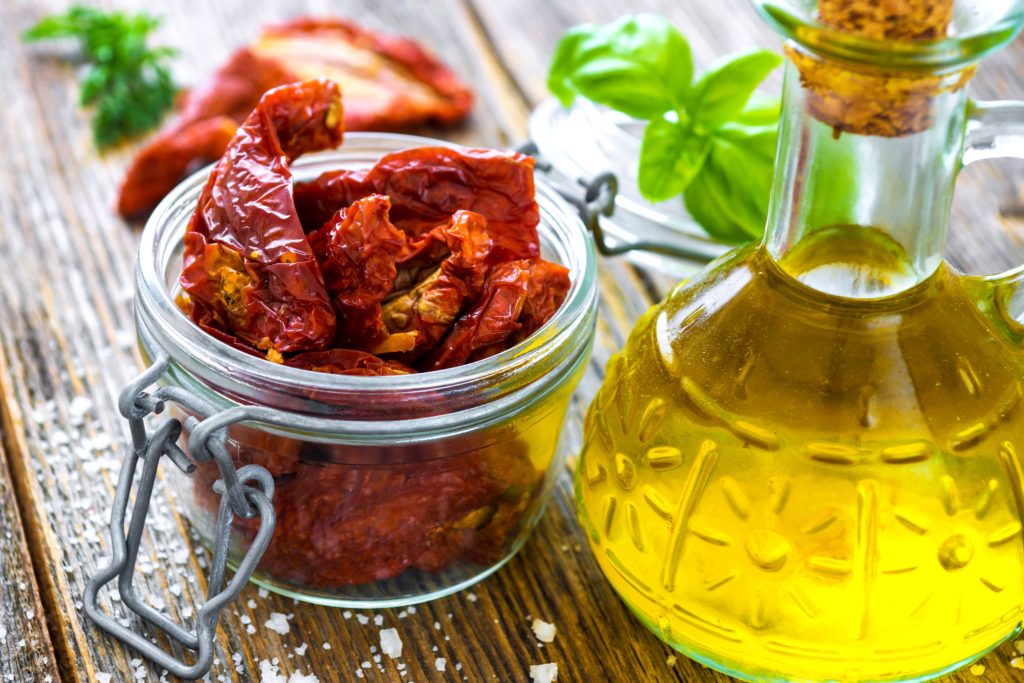 Directions:
Whisk together egg whites, dairy, 4 tbsp goat cheese and basil. Season to your liking. Sauté off zucchini (this helps release excess moisture and adds depth of flavor). Add 3/4 cooked zucchini and sun dried tomatoes to egg mixture.
Add 1 tbsp of extra virgin olive oil to pan over medium-low to low heat. Add egg mixture and cook until edges are just set, about 3-5 minutes, depending on range. Top with remaining zucchini and goat cheese.
Place in oven until top is golden brown and center is set, about 10-15 minutes.  The frittata should have a springy nature (almost like set jello).  Garnish with chopped sun dried tomatoes and extra basil.  Enjoy!
Feeds 2.
*Chiffonade means "made of rags" in French.  This knife skill is used to prepare delicate ribbons of herbs.  To chiffonade the basil in this recipe:
Begin by washing and drying the basil, then stacking the leaves on top of one another.
Roll the leaves lengthwise into a tight roll.
Using a sharp knife, cut the basil crosswise, thinly until its all sliced.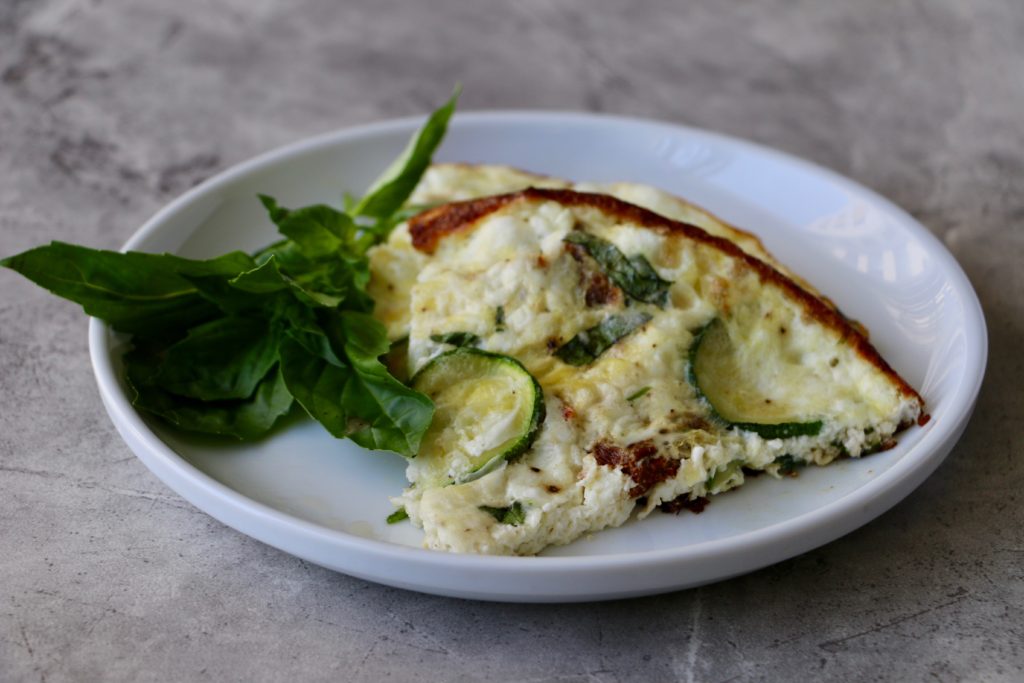 Nourish + Balance Nutritional Info Extra: Eggs

Eggs supply protein, iron, choline, selenium, biotin and lutein.A yolk from from one large egg contains 185 milligrams of cholesterol and 1.5 grams of saturated fat.To control dietary cholesterol, consume whole eggs and egg yolks in moderation.Substitutions: Two egg whites for one whole egg; or Two egg whites and one whole egg for two whole eggs.Nutritional value: 1 large egg = 72 calories & 6 grams protein.
Ron Carter, Executive Chef ron.carter@carterhall-lifesyle.com