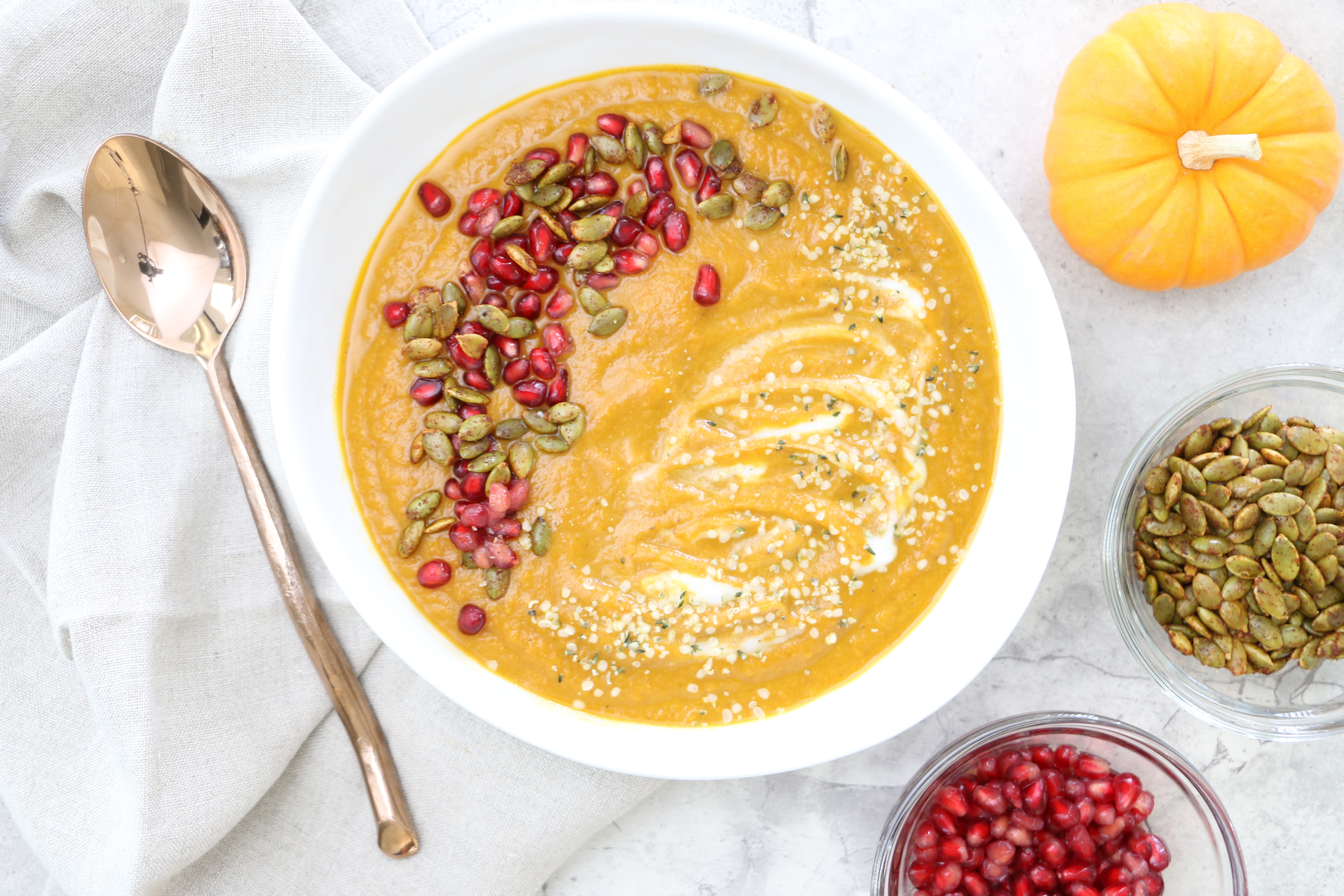 Fall for Pumpkin!
One of my favorite things about the autumn season is the reemergence of all things PUMPKIN! From pumpkin ravioli and pumpkin bread to pumpkin spiced cookies and pumpkin lattes, I'm a huge fan of it all! And since Fall is the perfect season to up your soup game, why not do with PUMPKIN! 
Did you know that this winter squash is highly nutritious, packed with a variety of nutrients including fiber, vitamins, minerals, and antioxidants?
Pumpkin has a high antioxidant profile, including beta carotene, which may reduce your risk of chronic diseases and protect your cells against damage from free radicals. Excessive free radicals in the body may lead to oxidative stress. Inflammation caused by oxidative stress has been linked to many chronic diseases. Antioxidants such as beta-carotene (precursor for vitamin A) help neutralize free radicals in the body, preventing them damaging your cells. 
Studies have also shown that vitamin A and has been shown to strengthen your immune system and fight infections. Along with vitamin A, pumpkin is also high in vitamin C, which also works to strengthen your immune system by increasing your white blood cell production, helping your immune cells to work more effectively.  
Impressively, not only is pumpkin high in vitamins but it is also low in calories. In fact, pumpkin has less than 50 calories per cup (245 grams) and consists of about 94% of water. Pumpkin is also a good source of fiber, which has been shown to improve heart health. Not only that, fiber helps you to stay satiated and feeling fuller longer, which may help in weight maintenance. 
There you have it. Pumpkin is more than just a vehicle for a spooky face on Halloween! I am absolutely obsessed with my Creamy Spicy + Sweet Pumpkin Soup and I hope you will too. Feel free to amp up the nutrient power by topping your soup with foods such as pomegranate seeds, hemp seeds, and  spicy pepitas.   
Creamy Spicy + Sweet Pumpkin Soup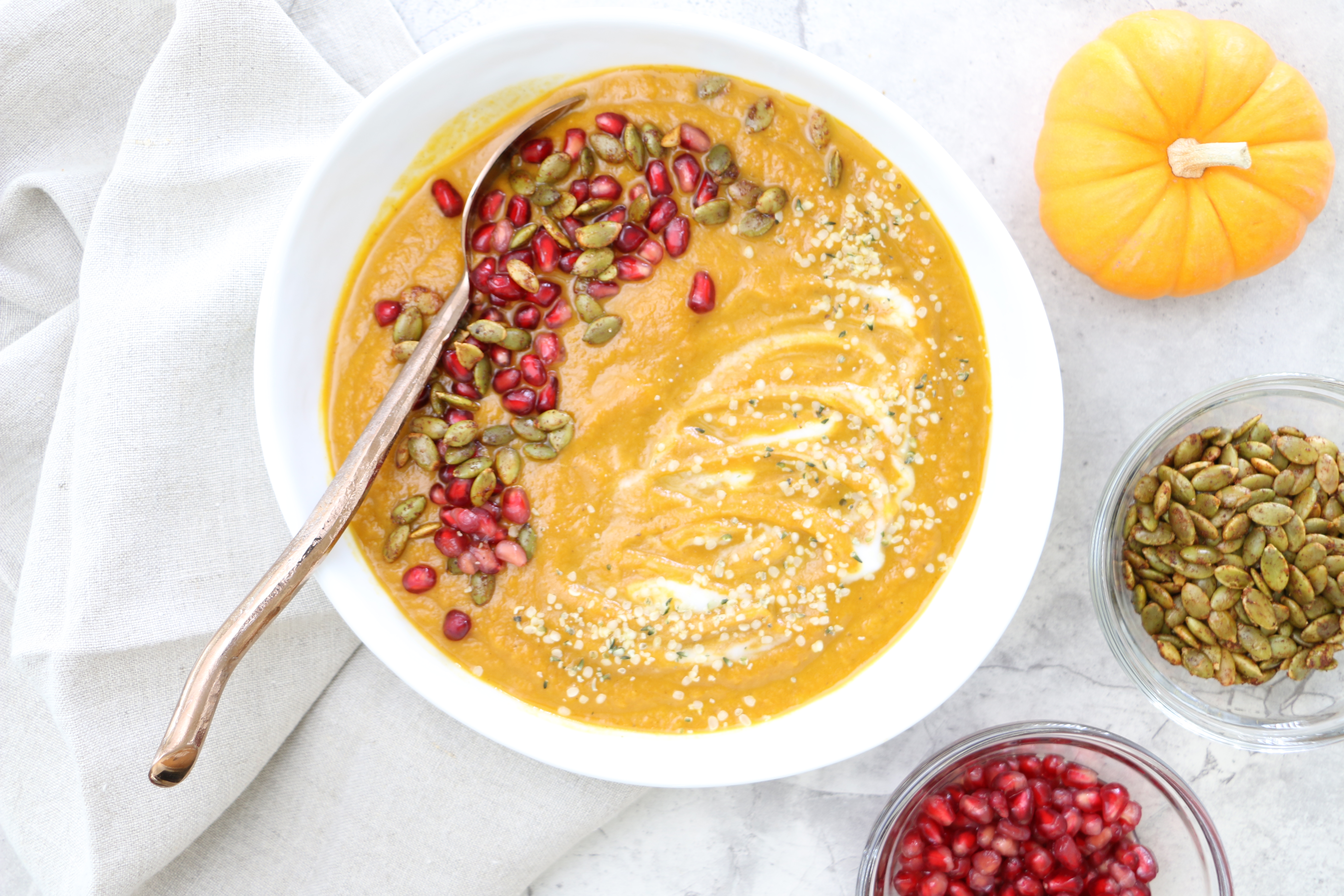 Ingredients:
3 tbsp olive oil

1 medium onion, peeled, chopped

4 cloves garlic, minced

6 shiitake mushrooms, stemmed, caps wiped clean + sliced

3 15oz cans puree pumpkin

4 cups (32 oz) low-sodium vegetable stock

1 medium apple, peeled and roughly chopped

1 tsp ground cinnamon

1 tsp ground nutmeg

½ tsp cayenne pepper

1 tsp salt

Ground pepper

½ cup full fat coconut milk or heavy cream

4 tbsp Grade A maple syrup
Optional Toppings:
Spicy pepitas

Pomegranate seeds

Unsweetened plain coconut yogurt

Hemp seeds

Parsley
Spiced pepitas:
1/2 c. pepitas

2 tsp olive oil

¼ tsp paprika

¼ tsp cumin

¼ tsp cayenne pepper

salt
Directions:
Heat 3 tbsp olive oil in a large heavy-bottomed pot over medium heat. Once the oil is shimmering, add onion, garlic, mushrooms and salt to the skillet. Stir to combine. Cook, stirring occasionally, until onion is translucent, about 8 to 10 minutes. 

Add pureed pumpkin, cinnamon, nutmeg, cloves, cayenne pepper, chopped apple, broth and a few twists of freshly ground black pepper. Stir to combine. Bring the mixture to a boil, then reduce heat. Simmer for about 15 minutes, covered to give the flavors time to meld. Remove from heat and let cool slightly.

While soup is simmering, roast the pepitas.  Preheat oven to 350'F. In a small bowl, toss pepitas in olive oil, paprika, cumin, cayenne pepper and salt. Spread pepitas on a sheet tray line with parchment paper. Roast pepitas for 10-12 minutes. Remove from oven and let cool.

While pepitas are roasting, finish preparing the soup. Add coconut milk and maple syrup to the pumpkin mixture and stir. Blend the soup using an immersion blender, or stand blender, working in batches. Blend until smooth.  Transfer pureed soup to soup bowls.

Top your spicy + sweet pumpkin soup with roasted pepitas and other toppings your choice. Try pomegranate seeds, hemp seeds and a soupful of plant based yogurt.

Enjoy!
#LiveNourished!
As always, I want to see pics of your finished recipe.  Make sure to follow and tag your photo with @steph_n_carter, @carterhall_lifestyle and #suiterecipe to win a 30 minute nutrition counseling session with me.  A winner will be chosen November 30th.